Hi! This is a review of the products in this months Play! box. I was originally going to post this on Monday but I'm too excited to wait!
First, I'd like to say that I love the Play! boxes and have been subscribed for a year and a half or so. I would recommend it to any makeup lover, it's such a luxury. It's a great way to try new products, without having to splurge on the full size.
Every box, there are five makeup/hair/skincare products and one perfume. The total cost is $10.87 (.87 is the tax), billed at the first of the month, received at the middle of the month. You receive an informative guide of the products, facts about them and how to use them. On that paper, you will also receive a pass for 50 extra Beauty Insider points, when you make a purchase in store.
This months box:
Check out the cute monthly bag!
1. Hourglass – Vanish Seamless Finish Foundation Stick:
Retails on Sephora.com for $46.00, I received shade "Shell". Upon swatching this, it was so silky and smooth. It blended out – as named – seamlessly. It also looks like my skin, leaves a satin medium to full coverage. Also, it's so cute and small! It's a deluxe sample size. This is my favorite product of the month.
2. ALTERNA Haircare – CAVIAR Anti-Aging Miracle Multiplying Volume Mist
Retails on Sephora.com for $30.00. Upon trying this product, I was excited to see the results and I'm not disappointed! For starters, it smells amazing. Floral and fruity. This made my hair much more lifted at the root. One tip is to make sure to work it through the hair with your fingers or a comb, or it will start to tangle. This is suitable for color-treated hair.
3. KORRES – Golden Krocus Ageless Saffron Elixir Serum
Retails for $98.00 on Sephora.com. This elixir is to be applied to your clean face before moisturizer to reduce the looks of fine lines and aging.
Research results from Sephora.com In a 2-week consumer use test:
– 97% reported improved skin suppleness, elasticity, and overall health
– 94% reported improved skin firmness
– 91% reported improved performance of their existing skin care routine
– 91% reported lifted skin
– 91% reported even skin tone and texture
Upon testing this on my hand, I could see a reduction in fine lines. Also, it smells great. It has a natural finish.
4. CLINIQUE – High Impact MascaraAND CLINIQUE – Lash Building Primer

High Impact retails at Sephora.com for $18.00 and Lash Building retails at Sephora.com for $17.00.
Two mascaras combined into one! How cool? The mascara is black and has a great wand. The primer is liquidy, a good wand as well. I was really excited to try this because I've never used a lash primer. I did notice a difference with using the primer and mascara, I would say they stayed wet for longer, was easy to apply, and added length and thickness. This did want to clump a bit but if you "comb" through you lashes with a clean disposable wand that will remove the clumps.
2 mirco.mini blenders retail on Sephora.com for $18.00. I was so excited to see this was in this months box! I've never tried a beauty blender and always wanted to. After damping your sponge, use can use it for blending creams like concealer, contour, and highlighters. This is great for stopping your concealer from creasing before setting it.
The perfume of the month:
Retails on Sephora.com for $29.00 – $125.00. I have tried this in the past and loved it! It still smells amazing. It's quite similar to the original Burberry perfume but more floral. The scents as described on Sephora.com
Notes:
Sun-drenched Jasmine, Peach Nectar, Candied Rose, Amber Patchouli.
Style:
Floral. Sexy. Intimate.
I highly recommend this, but don't go too heavy on it.
Check out Sephora's unboxing here
Update 8/15/2017:
I love the elixir, it's extremely simple and does its job. I don't think I'd pay $98.00 for it.
The beauty blender is weird, I think I just prefer brushes for concealer. It became patchy when using it.
The perfume smells great, I would buy it again.
The mascara, for me, is HORRIBLE. Made my lashes clumpy, Instead of 50 lashes I had 5. I wouldn't buy this, I threw it away after using it.
The hair product is fine, but I've seen better thickening sprays. Wouldnt purchase.
The foundation is very luxurious! Great coverage, good color match, it does have a lot of texture after blending. I think if you apply it, spray a setting spray, then blend it and I think that would take care of the texture.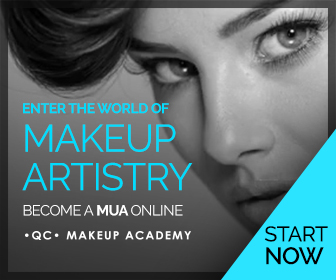 Disclaimer: I am a QC Makeup Academy affiliate, which means if you enroll through the website link or banner i've provided I will receive commission. I did not become an affiliate for money, I became one because I love the school. Feel free to not use the link if you have a problem with affiliation 🙂