Hi! Today I'm doing a tutorial on the picture below. I saw it in a study book from my school and it think it's gorgeous. It's a very simple 90's look especially with the lips. All products I used will be listed and linked after the tutorial.
Disclaimer: The image that inspired me to do this tutorial – above and featured image – is from a QC Makeup Academy book. I do not own the photo.
Eyes:
Step one: Start with a clean, preped face. Do your brows and apply an eye primer.
Step two: Apply a skin tone eyeshadow to your lid.
Step three: Apply a warm brown to your crease, blending upward.
Step four: Apply a meticallic gold eyeliner to the lashline. Blend out. Apply a gold eyeshadow in a similar color.
Step five: Apply a metalic bronze to the lashline. Repeat step four and five on the lower lash line.
Step six: Apply same metalic bronze onto the lower waterline. Really work it into the lashes
Step seven: Apply foundation, concealer etc. Remember to keep your complexion matte and bronzed. If you use a highlighter (I did) make sure it's a natural glow. Also, I didn't apply mascara because I didn't feel it was needed.
Step eight: Add a matte highlligher on the inner corner.
Lips:

Step one: Apply lip balm to hydrate. Let that rest for at least five minutes.
Step two: Remove lip balm with a tissue. Apply a nude lipliner.
Step three: Apply a brown metalic lipstick, using a lip brush.
Step four: Apply gold eyeshdaow on the middle of lips.
Finished look:
Products used:
Toner: Neutrogena – Alcohol Free Toner
Primer spray: Urban Decay – Quick Fix Hydracharged Complexion Prep Priming Spray
Primer: Urban Decay – Optical Illusion Complexion Primer
Foundation: Hourglass – Vanish Seamless Finish Foundation Stick dabbed onto my face, then sprayed Urban Decay – All Nighter Long-Lasting Makeup Setting Spray then blended it with a flat top foundation brush.
Concealer: IT Cosmetics – Bye Bye Under Eye Full Coverage Anti-Aging Waterproof Concealer in medium.
Powder:IT Cosmetics – Celebration Foundation in medium beige.
Loose powder: Laura Mercier – Translucent Loose Setting Powder
Bronzer:Sonia Kashuk – Face Palette Pretty Cheeky
Highlighter:Sonia Kashuk – Face Palette Pretty Cheeky
Eye primer:Too Faced – Shadow Insurance
Lid:Sonia Kashuk – Knock Out Beauty Smokey Eye Palette – Shadow Box. Color marked with checkmark.
Crease:Sonia Kashuk – Knock Out Beauty Smokey Eye Palette – Shadow Box. Color marked with checkmark.
The Sonia Kashuk palette has unfortunately been discontinued, a great dupe would be the Go Palette in Cairo by Coastal Scents.
Meticallic gold eyeshadow: Physicians Formula Shimmer Strips Custom Eye Enhancing Shadow & Liner – Nude Collection – Warm Nude. Applied same gold eyeshadow on center of lips.
Meticallic gold:Italia – Gold Pencil Eyeliner
Meticallic bronze: CoverGirl – Ink It! Perfect Point Plus Eyeliner. I love love love this eyeliner and highly reccomend trying it out.
Brow pencil: Maybelline – EyeStudio Brow Precise Micro Pencil in deep brown.
Brow gel: Benefit Cosmetics – Gimme Brow Volumizing Fiber Gel in 3.
Lip balm:Carmex – Original Clickstick Lip Balm
Lip liner: Rimmel London – Lasting Finish 1000 Kisses Stay On Lip Liner Pencil in Tiramisu 05. This is my favourite lipliner, I really reccomend trying it out.

Lipstick:Revlon – Ultra HD Lip Lacquer in Smoky Quartz
To clean brushes between uses I use SEPHORA COLLECTION – Dry Clean Instant Dry Brush Cleaner Spray and SEPHORA COLLECTION – Color Switch By Vera Mona Brush Cleaner .
QC Makeup Academy is the school I got the inspirtation from. Visit them by clicking the banner below or here.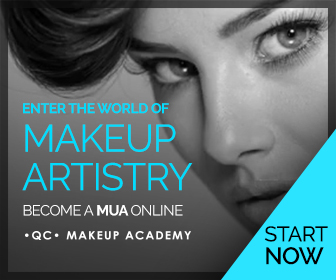 Disclaimer: I am a QC Makeup Academy affiliate, which means if you enroll through the website link or banner I've provided I will receive a commission. I did not become an affiliate for money, I became one because I love the school. Feel free to not use the link if you have a problem with affiliation.